Our vision is to limit global warming to 1.5°C. Our mission is to support the nations in the implementation of the Paris Agreement and to promote complex projects that reduce, sequester or preserve large CO2 deposits.
We want to bridge the gap between: Science – Politics – Business – Society.
To accomplish this mission, we implemented the Pleistocene project. We need you to manage this mammoth project. We want to support people in making the best possible contribution to climate protection.
Why we are a non-profit foundation:
We decided to give the climate protection project a non-profit framework right from the founding phase. As a result, all donations are used for the preservation of the permafrost.
Transparency is important to us. That is why we have joined the "Transparent Civil Society Initiative", among others.
Scientific advisory board
Prof. Dr. Martin Heimann
Professor Emeritus at the
Max Planck Institute for
Biogeochemistry in Jena
more than 20 years of experience
in permafrost research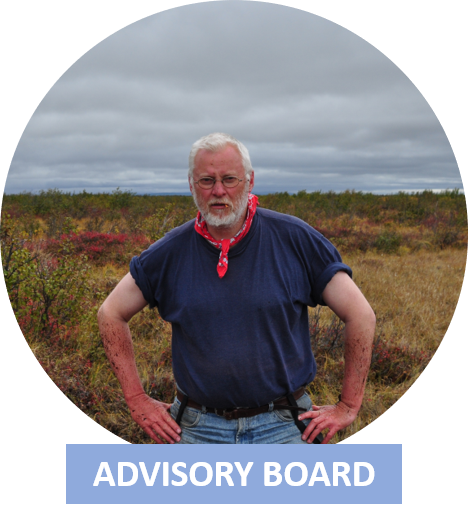 Prof. Dr. Dr. Hans Joosten
Head of the Working Group for
Peatland Science and Paleoecology
of the University of Greifswald
Advisor to the UNFCCC, UNESCO SCOPE and the Intergovernmental Panel on Climate Change
Dr. Jan Hückel
Partner at McDermott
Will & Emery LLP
Advice on all
corporate law
issues and formation
Johanna Kollmann
Head of Science Marketing Zeitverlag Gerd Bucerius GmbH & Co. KG;
Advision on external perception and media relations
When I reported about the Pleistocene Park, I was thinking to myself, "What a crazy idea!" That's why I find it even more impressive that the team of Michael and Bernd, together with Nikita, are implementing this project. I was very enthusiastic about it and that's why I support the Pleistocene & Permafrost Foundation as an ambassador.
The Pleistocene Concept explained by Dirk Steffens (use the subtitle!):
YouTube
We believe in partnerships that have a positive impact on the climate and environment, at the same time create added value for companies and stakeholders.
When we, the law firm McDermott Will & Emery, received the founding request, it was of immediate importance to us to support the non-profit project "Pro Bono". This project is the cornerstone of averting one of the most catastrophic consequences of climate change: The thawing of permafrost.
expand
Climate protection is a global issue that is close to our hearts as an international society and has led us to support it. It cannot be that ambitious complex projects fail due to legal and fiscal hurdles. We would like to ensure that this is the case by deploying our interdisciplinary team.
We stand by the non-profit Pleistocene & Permafrost Foundation, from the very beginning, in all legal matters. With the foundation we would like to make a great contribution in the fight against global warming. For this reason, our contribution is naturally "pro bono".
McDermott Will & Emery is a leading international law firm. With more than 1,200 attorneys, we have offices in 21 locations around the world: Atlanta, Boston, Brussels, Chicago, Dallas, Düsseldorf, Frankfurt a. M., Houston, Cologne, London, Los Angeles, Miami, Milan, Munich, New York, Orange County, Paris, San Francisco, Silicon Valley, Washington, D.C. and Wilmington. The German practice is led by McDermott Will & Emery Rechtsanwälte Steuerberater LLP.
As AlfHa-Consulting GmbH was asked by the management of the foundation to support the establishment of the advisory board and the foundation, I was very happy to make the desired contribution here.
expand
The basic idea of delaying or preventing the thawing of permafrost in a natural way has fascinated me very much from the beginning. The international scientists who have developed the approach over decades and are implementing it operationally on-site in a pilot park need powerful ideational, organizational, and financial support to tackle and master this mammoth task.
To be allowed to get personally involved here is a real contribution to avoiding the serious effects of climate change caused by the thawing of the permafrost.
In doing so, I support "pro bono" as a founding member of the Foundation's Advisory Board its establishment, and that of its Advisory Council in all strategic and organizational matters.
We are happy about everyone who supports this great and challenging project together with us, with his company, and through his personal commitment. That is what I am committed to.
"The Pleistocene Park project immediately captivated us. It impresses us immensely with what conviction and inner strength the actors in Siberia tackle this almost impossible task. People who simply do things, who tackle a problem that affects the whole world, while many others only talk."
expand
"The importance of permafrost is crucial for the further development of climate change and the consequences of thawing would be fatal. The fight against a persistent rise in temperature is probably the greatest global challenge for all of us.
Everyone can contribute by reducing their own carbon footprint. Whether it is the renunciation of a flight or the conversion of the bookkeeping to recycled paper.
However, those who work as sacrificially as the team in Siberia deserve our recognition and support. We are therefore pleased to be able to make a small contribution."
Seidich Schäfte (www.seidich.de) in Herne, Germany, specializes in the handcrafted production of uppers for high-quality custom shoes. As one of the last remaining workshops, the family-owned company has been manufacturing shoes by hand since 1928, still partly using tools from the 19th century. Exclusively unique, designed according to customer wishes, which provide their owners with many years of good service.
Do you want to become a Business Partner?
Click here
We want to bridge the gap between science, politics, business and society. We have the following institutes to thank for numerous publications and research on permafrost:
We would like to thank Prof. Dr. Christian Beer for the insightful research results that support the Pleistocene concept.

For the scientific data and background, we are in close contact with Dr. Matthias Göckede and Prof. Dr. Martin Heimann from the Max Planck Institute for Biogeochemistry in Jena.
It is our concern to support future research on permafrost. Part of the donations received therefore flows directly into scientific projects.
News
Together with your help, we can prevent one of the greatest climate disasters.
Donate